2022 Mar 23
Harvard GSD Appoints Gary Hilderbrand Chair of Landscape Architecture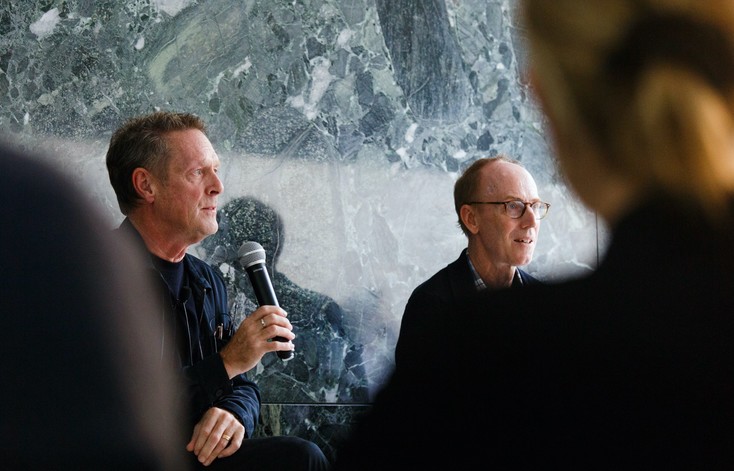 We are thrilled to congratulate founding partner Gary Hilderbrand FASLA FAAR on his appointment as Chair of the Department of Landscape Architecture at Harvard Graduate School of Design, effective July 1, 2022. Gary is the Peter Louis Hornbeck Professor-in-Practice at the GSD, where he has taught since 1990. He succeeds Anita Berrizbeitia, becoming the fifteenth chair of the world's oldest landscape architecture department.
"Gary's sensibilities as a teacher and as a practitioner are one and the same—his unyielding efforts to reconcile imminent, often intractable forces of urbanization with ecological sustainability, cultural history, vegetative regimes, and thoughtful kindness are central to his pedagogy and practice both. I could not be more delighted he has accepted this appointment, and I am excited for what is to come under his leadership of the department," says Sarah M. Whiting, Dean and Josep Lluís Sert Professor of Architecture, in the GSD's announcement today (link here).
"Teaching, learning, the exchange of knowledge, the sharing of inspiration — these are practices or preoccupations that stitch together the community of landscape architects who make up Reed Hilderbrand," says Managing Partner John Kett, ASLA. "This comes in large part from our founders, including Gary's decades of teaching at the GSD. We have all enjoyed our practice's connection to the life of the school and we could not be prouder of Gary. Nor could we be more excited for the GSD's next generation of students and emerging faculty in landscape architecture."
"I'm humbled and honored in equal measure by this appointment, and I am grateful to Dean Whiting for her confidence," Gary says. "In the face of ever more dramatic environmental and social upheaval, landscape architects must stand with conviction, design with both creativity and empathy, and communicate accessibly to all folks. To sustain a vibrant creative practice while also working closely with students and colleagues is a rare and precious gift. I am grateful for the support of my partners and everyone at Reed Hilderbrand."
Gary founded Reed Hilderbrand in 2000 with Douglas Reed following their successful partnership to create M. Victor and Frances Leventritt Shrub & Vine Garden for the Arnold Arboretum of Harvard University in Boston. The partnership has since expanded to seven and the number of employees to more than 60. Works by Reed Hilderbrand have received more than 100 design awards to date. Over the course of his career, Gary has led the design of landscape works for Sterling and Francine Clark Art Institute, Scenic Hudson's Long Dock Park, MacDowell's James Baldwin Library, and the Cambridge Urban Forest Master Plan. Gary's ongoing work includes the repositioning of New York City's Lever House, the Hirshhorn Museum and Sculpture Garden, the new Farrand House at Dumbarton Oaks, and major interventions at the Storm King Art Center.
A committed practitioner, teacher, critic, and writer, Gary's personal honors include Harvard University's Charles Eliot Traveling Fellowship, the Rome Prize in Landscape Architecture, the Architectural League's Emerging Voices Award with Douglas Reed, and the 2013 ASLA Firm of the Year award. Design Intelligence named him one its "25 Most Admired Educators" of 2016. Gary is the recipient of the 2017 ASLA Design Medal, the highest design honor available to an American landscape architect.
Gary's essays have been featured in Landscape Architecture, Topos, Harvard Design Magazine, Architecture Boston, Clark Art Journal, Arnoldia, New England Journal of Garden History, and Land Forum. Hilderbrand is co-author of the monograph Visible Invisible: The Landscape Works of Reed Hilderbrand (2012), and he has produced two other books: Making a Landscape of Continuity: The Practice of Innocenti & Webel (1997), which was recognized by ASLA and AIGA (50 Best Books); and The Miller Garden: Icon of Modernism (1999).
He has served on the editorial boards of Spacemaker Press, Harvard Design Magazine, and Landscape Architecture Magazine. As a competition juror, he's participated in Harvard's Green Prize for Urban Design (2006, 2013); I Premi Europeu de Paisatge Rosa Barba Barcelona (2000, 2002, 2003, as chair in 2018); and "Suburbia Transformed" for the James Rose Center (2010). He chaired the ASLA National Awards Jury in 2005 and the ASLA Annual Student Awards Jury in 2006.