2022 Aug 03
A Welcome Future for Storm King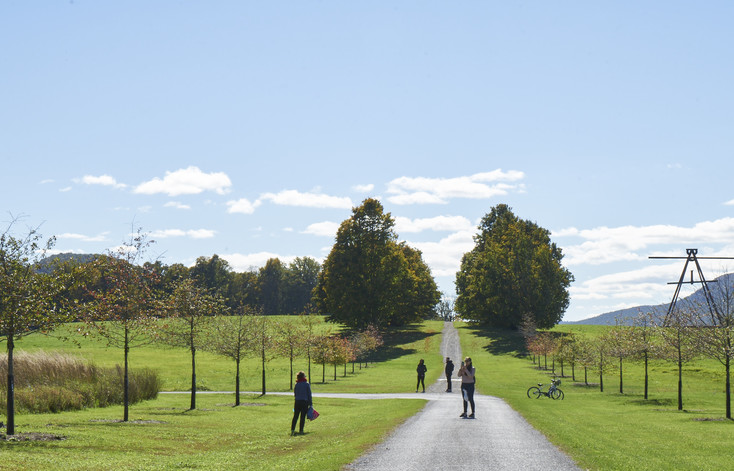 Storm King Art Center's vision of art in nature has inspired visitors and artists alike for sixty years. Now they embark on an ambitious capital project to enhance and sustain an extraordinary experience of art and nature into the future. Breaking ground later this year and due to be completed in 2024, the $45 million project comprises a new Welcome Sequence with consolidated parking and accessible amenities; the construction of a Conservation, Fabrication, and Maintenance Building; and a holistic approach to landscape stewardship and environmental sustainability.
Storm King partnered with a global team of consultants, including project partners heneghan peng architects, from Dublin, Ireland; New York-based WXY architecture + urban design; and landscape architecture firms Gustafson Porter + Bowman, of London, UK, and Reed Hilderbrand. The Reed Hilderbrand project team is led by Gary Hilderbrand, Beka Sturges, and Meg Griscom, all of whom worked with Storm King previously on the renewal of the Allées in 2018.
Amy S. Weisser, Deputy Director of Strategic Planning and Projects at Storm King, said of the project vision and partners: "While each design firm brings a distinct toolbox of expertise, their collective approach is grounded in a shared set of values which aligns with Storm King's—a deference to art and nature, to being in and of the outdoors, to creativity and collaboration, to care for people and nature, and to building sustainable infrastructure. With its delicate impact on the land, this project demonstrates that a museum building is a platform for experience." 
Storm King's acclaimed biodiversity and range of ecological systems—from wetland to meadow to forest—are celebrated and strengthened, noted Beka Sturges, Principal at Reed Hilderbrand: "It's exceptionally rare for landscape to be treated as seriously as art, as it is at Storm King. The environment at Storm King allows people to appreciate that they have a relationship to the land, invites them to imagine caring for it and appreciating that it changes, just as they do. We thought deeply about how to make the woods, wetlands, and overall biodiversity of the grounds a more inherent and exciting part of the experience, especially how it can support people's encounters with the art. This includes planning for greater diversity of plant species—varying heights, textures, shapes, and groupings, which reward intimate viewings as well as long views."
The Welcome Sequence has been an important, unique collaboration across disciplines. Says Senior Associate and Storm King Project Manager, Meg Griscom, "To find around the table with us throughout our planning process such incredible design talent and wonderful passion for the biological riches and cultural resources present in the Hudson Valley — this has been a gift for me and for all of us working on the landscape."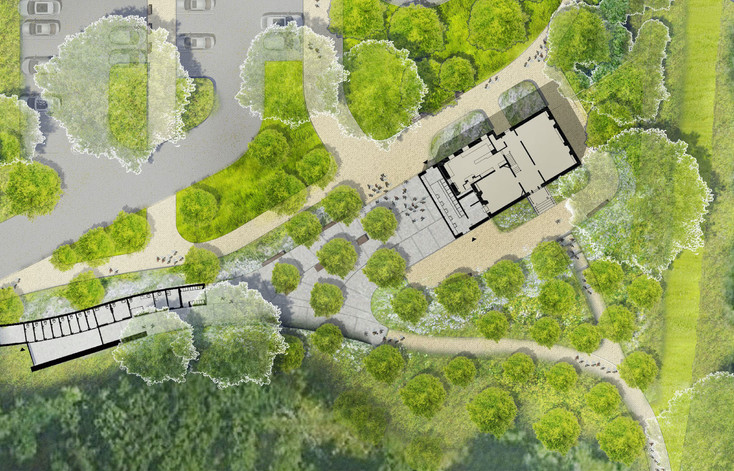 Reed Hilderbrand contributes the landscape architecture for the new 4.5 acre Welcome Sequence connecting the series of pavilions offering hospitality and essential amenities to visitors upon arrival. Our work will add more than 650 trees of twenty species. This new, easily navigated area removes the parking lots currently sited within Storm King's grounds, consolidating visitor parking to a forested edge of the site, and eliminating visitors' encounters with cars while exploring the Art Center. The landscape is carefully shaped and populated with native plants that intuitively guide visitors through an outdoor lobby and into the grounds. Throughout, the pathways are designed for universal accessibility. This seamless transition from entry to exploration focuses attention from image to activity, removing distractions and facilitating the experience of being in nature.
This project builds upon Storm King's legacy of landscape stewardship and environmental sustainability by designing for clean, renewable energy and investing in the landscape with the planting of more than 650 new trees that will offer shade for visitors and promote biodiversity. Sophisticated and multivalent sustainability measures are threaded throughout design. Key strategies include designing with reference to utilizing natural air and light to efficiently reduce energy demand, operational expenses, and long-term capital costs; using sustainable and durable materials to reduce embodied energy and limit long-term maintenance demands; supporting biodiversity and site hydrology to enhance local ecology; and enhancing mobility to Storm King to reduce carbon emissions and promote staff wellness.
The capital project also supports Storm King's ongoing contributions to the cultural, educational, and economic fabric of the local communities of Cornwall and Orange County, as well as the larger Hudson Valley. The parking area is designed to promote and support the use of public transportation for travel to Storm King, so as to reduce the carbon footprint of Storm King's visitors and make the Art Center accessible to those without a personal vehicle. Dedicated and expanded space is given to welcoming school groups, including a dedicated drop-off area and pavilion for orientation, reflecting core values of inclusivity and engagement.